Shopsmith Mark V Repair Options
Type Of Service We Provide

A. Shopsmith Mark V Headstock Tune-up, Only $79.95
Shopsmith Mark V headstock, any model, any age from 1953 to current.
A headstock tune-up includes the following:
Visual inspection.
Mechanical inspection.
Check bearings and belts.
Adjust speed controller.
Clean & lubricate internal components.
Clean & lubricate the motor.
We email you a complete status report.
Only $79.95
Call 505 349-3599 if you have any questions.
Visit my Facebook page for examples of completed repair work. click here
Note: As always, if there are any additional repairs necessary I will contact you before proceeding with any repairs.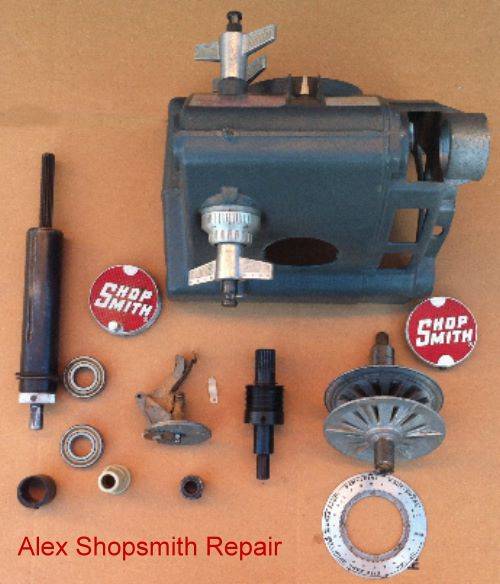 B. Shopsmith Mark V Headstock Rebuild, Only $175 + Parts
Whether your machine is well-used or stiff from lack of use, I can completely rebuild your Shopsmith to original factory specifications.
The headstock rebuild process includes the following:
Remove the quill and inspect the bearing(s)
in most cases they need to be replaced.
Check the quill return spring tension & set it to specs.
Inspect the speed controller parts and replace as needed.
Set the speed dial to starting speed of 650-700 RPM.
Test on/off Switch and replace if needed.
Inspect the electrical cable and plug.
Test the unit electrical ground for proper operation.
Inspect the motor bearings & wingdings for signs of discoloration.
Clean the motor and lubricate the motor sheave pulley.
Remove drive sleeve assembly and check bearings
clean thoroughly and replace the bearings if needed.
Inspect the belts for size, cracking, glazing or
fraying and replace as needed.
Clean and adjust the eccentric bushing.
Check the Idler shaft for wear, replace if needed.
Inspect control sheave assembly, replace if required.
Replace any missing Allen set screws and fasteners.
Check quadrant assembly and replace if needed.
Check the Long key for corrosion or damage.
Replace Speed control handle if necessary.
Do a complete 2×4 cut and disk sanding test.
The unit will be cleaned and lubricating inside and out.
We will email you a complete status report with pictures.
Only $175.00 plus parts
Call 505 349-3599 if you have any questions.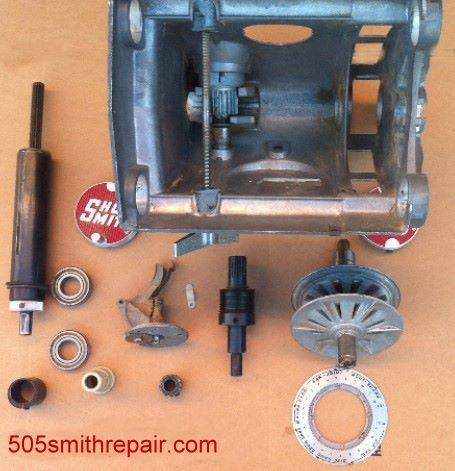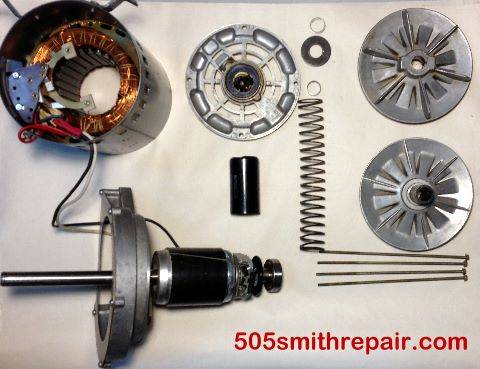 Shopsmith Headstock Rebuild Process Overview

Step 1.  The rebuild process start with dismantling the headstock completely. Starting with the quill, then the main drive assembly, the sheave pulleys, the speed controller, the belts and all the other parts as shown in the pictures above.
For additional info. on the electric motor rebuild process and cost click here
Step 2.  All the parts go in a parts washer and cleaned thoroughly. Then each part get inspected for any damage or if it is found to be out of specs. it will be replaced with a genuine Shopsmith part. We only replace parts that must be replaced.
Step 3.  Once all the parts inspection is complete, the headstock will then be re assembled. In the this step all adjustments and calibrations take place. When completed, a detailed testing of the unit operation get started including : speed controller operation test, quill spring tension and movement test,  belts slipping test under different load conditions such as cutting and disk sanding. Temperature of the main drive bearings test and finally an  electric volt/amp power test. See the headstock rebuild process check list above for a complete overview of items checked and replaced.
Testimonials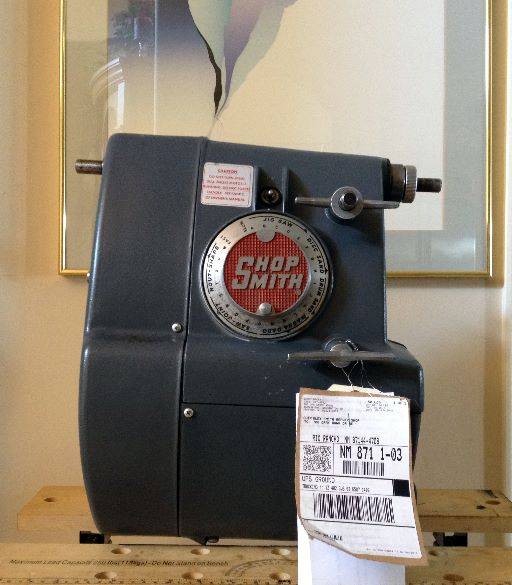 Hi Alex,
A week ago I received back the ShopSmith power head that you rebuilt. I've been using the machine in my shop about ten hours since receiving it and it runs just great. I can certainly testify that YOU are the ShopSmith Whisperer for these machines! It was a pleasure to do business with someone like you who offers great service on these old machines at a reasonable price. I will be passing your name on to the person I purchased the unit from that you rebuilt as he has two more in his shop and may need service someday. Also, you will be seeing my second ShopSmith sometime this fall for service. I'm glad to have found your services online and wouldn't dream of having someone else work on my machines. Thank you for your hard work and outstanding services.
Barry M.
Cambridge Ct. Grafton, WI 53024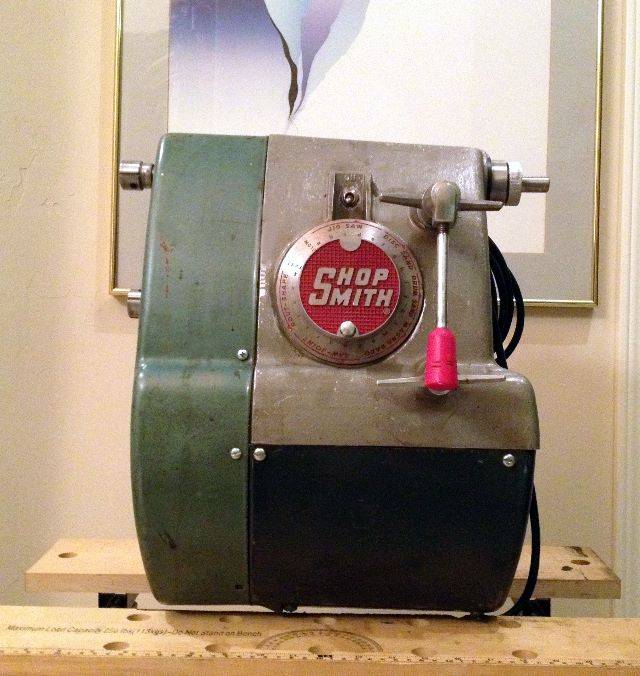 Shopsmith Repair Feedback
Hi Alex,
Received my headstock the other day. Reinstalled it and was very pleased with how quiet and smooth it ran. Looks like I will probably get another 60 years from it. Beats buying a new one.
Thanks again.
Mike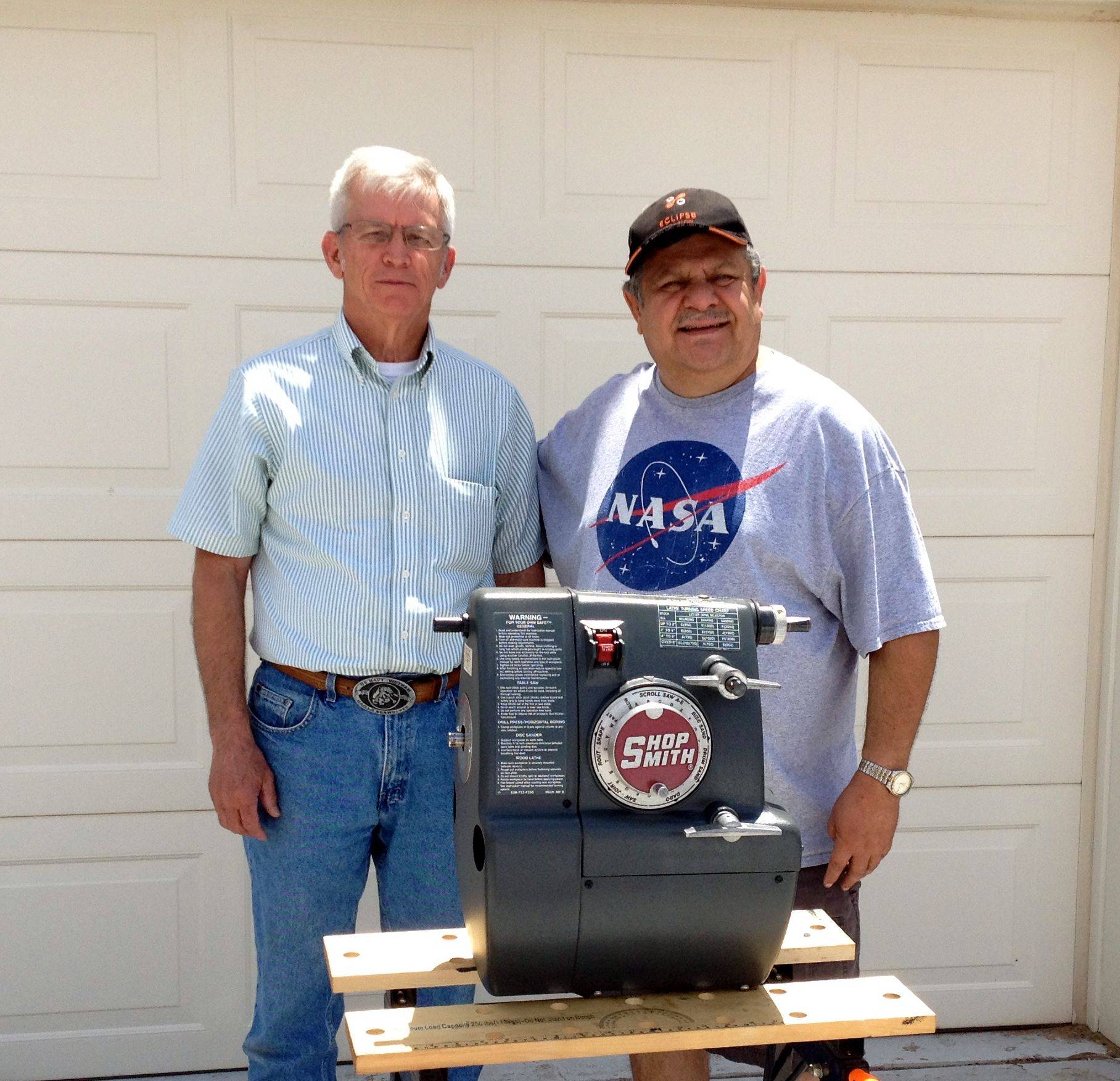 More Shopsmith Repair = More Friends
Ed and his wife drove from Missouri in their way to visit his Vietnam veteran friend in CA. He stopped by the shop to pickup his Shopsmith 50th anniversary model that I repaired for him. I love the stories and the friends I am making through Shopsmith.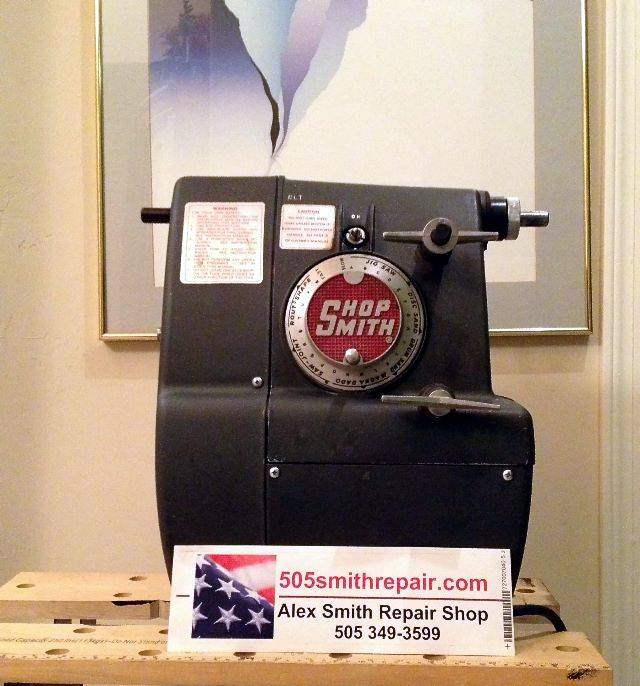 Alex:
Received my unit on Wednesday of last week and am very pleased with your work. The unit just purrs like a sewing machine.  Further I would like to say what a pleasure it was dealing with you.  You took time to answer my questions and were extremely courteous and helpful.  Taking time that others would not have bothered to do.
I will recommend  your service to any Shopsmith owner without reservation and thank you again for your work and help. I could not get your testimonial form to open so I hope this will do.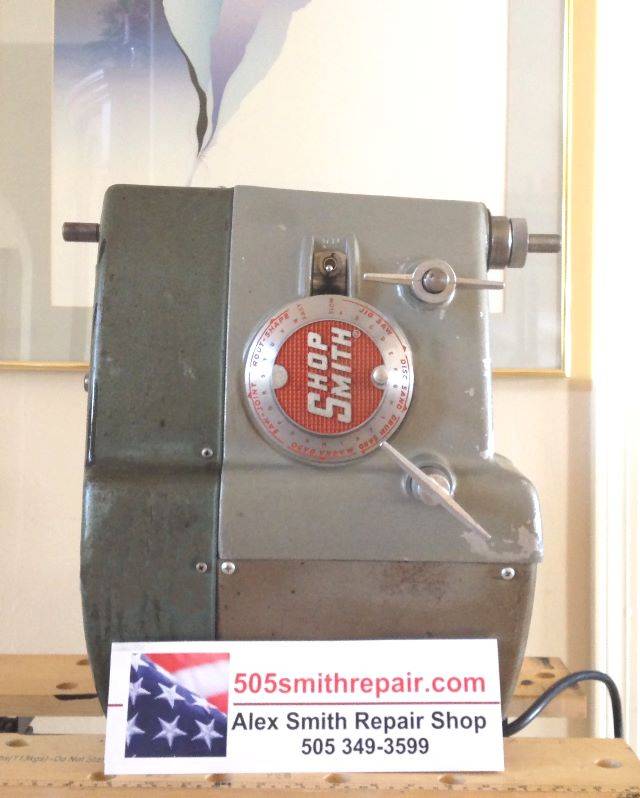 Subject: New life
My Shopsmith is a 1955 model that sat unused in the garage for the last 25 years. It was essentially dead. Alex brought it back to life and now it works as good as new. At least I assume it's as good as new – when it was new I was 9 years old and a little scared of it so only had secondhand experience then from watching my dad. He got a lot of enjoyment from his Shopsmith and I did too in the 70s and 80s. Now I can look forward to using it again. Alex was great to deal with and I am very pleased with the whole process.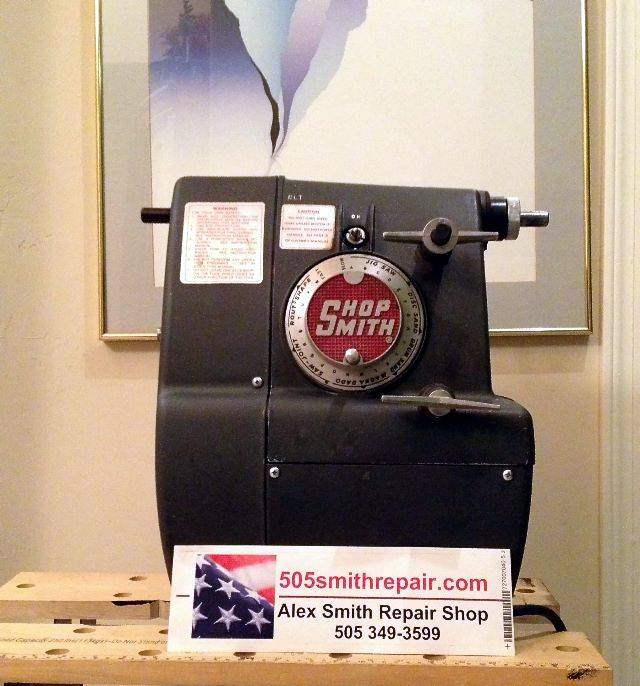 Hi Alex,
I received my headstock back today, it runs great! It was a pleasure working with you. Professional, quality work, fast turn around and reasonable cost. Thank you very much.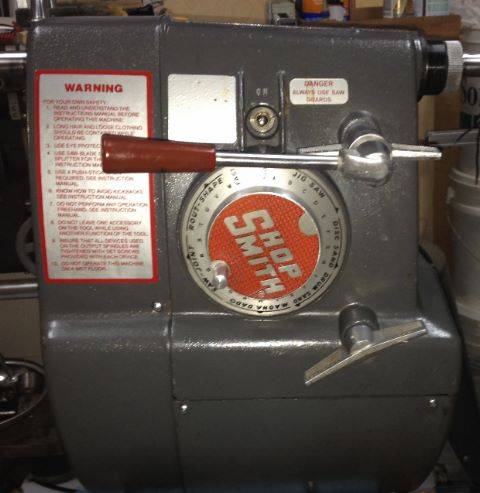 I am so pleased with the way it runs.
Alix, set my shopsmith up today. I am so pleased with the way it runs. Cut and ran like a knew one. Speed control works great. I my glad I chose you to work on it. If someone needs there worked on, I suggest you send it to Alix. Thanks, Hilton F.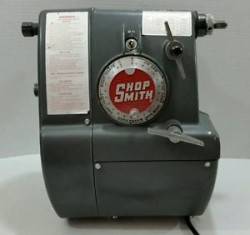 Looks great and runs great!
Hi Alex, received my headstock and installed it yesterday, looks great and runs great.
Thanks for a great job ….