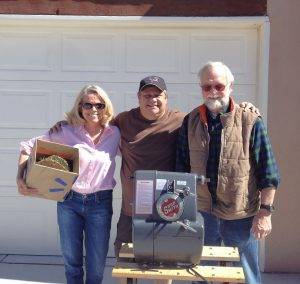 Updated 2022
Shopsmith Mark V Repair Since 1990
Headstock Tune-Up is only $79 – A Complete Rebuild is $175 + Parts
Free Inspection Plus The Lowest Prices in the Country
10% Discount for Seniors or Veterans

Thank you for visiting my website.  As a retired NASA engineer I do things a little different than other repair shops you may find online. I repair Shopsmith because I enjoy it. It keeps my mind busy. I am also a woodworker. I inspect each machine free of charge before starting the repair.
I provide you with options that suit your budget,  I do the repair right the first time and I charge less than any other shop.
Before you send your machine to anyone, you should ask them:
A- To show you examples of machines that they have repaired before.
B- Read customers reviews about their experiences dealing with that shop.
C- Ask them if they offer free inspection before doing any repair.
D- Do they offer discount for seniors or veterans?
E- Can they provide you a quote for the repair before doing the work?
With that information at hand, you can then decide which shop you are comfortable sending
your machine to.
Shopsmith is a serious woodworking tool. The repair should be done by a qualified person that has the experience and the proper tools to repair it.
Please visit my Facebook page and see examples and pictures of machines I repaired in the past.
Read customers reviews and feedbacks and look at the quality of the repairs. Then decided
if you want me to repair your machine. I inspect each machine before starting the repair.
I work with you to explain the repair process and provide you with options that suit your
budget.
Unique proprietary repair system.  25 years ago I developed a unique repair system combine
that with using only high performance replacement parts,  we are able to achieve about 30% stronger and quieter running machine at no additional cost. You will be able to feel the performance difference when you are cutting hard wood and notice how quiet the machine is running.
To do a complete rebuild of a Shopsmith Mark V headstock, it takes me on an average about two days. The reason is simple.  First I meticulously inspect the Headstock and the electric motor before starting any work. Then I call you or email you an inspection report with a quote so you can tell what to expect. No work is done before your approval. I stand by the precision and the quality of my work.
What can you expect? A good old fashioned fast service. 10% discount for seniors or veterans,
a 25% discount on return shipping and a complete repair report with pictures.
Whether your machine is well-used or stiff from lack of use, I can completely rebuild it to the original factory specifications and save you money. Your machine will run quieter and stronger as a result guaranteed.  Click Here to Schedule your free inspection of your headstock today.

I understand that you may still have some specific questions about your machine, then please call me
at 505 349-3599 or click Here and email me your question. No obligation.
Regards,
Alex