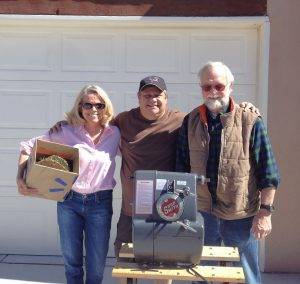 Shopsmith Precision Repair Service Since 1990
— Tune-Up $79 — Rebuild $175 + Parts —
10% discount for seniors and veterans & 25% off on return shipping cost

Thank you for visiting my website.  As a retired NASA engineer I do things a little different than other Shopsmith repair shops you may find online.
As an engineer I am interested in the quality of the repair and not the quantity.
What can you expect? A good old fashioned fast service.10% discount for seniors and veterans.
25% off on return shipping cost. A complete free inspection report and a quote prior to any work been done. A quality precision service with attention to details.  Do not take my words for it. Go to my Facebook page and see the pictures and read actual customers feedbacks.
The truth is, to do a complete rebuild of a Shopsmith Mark V, you need on an average about two days. The reason is simple.  First I meticulously inspect the Headstock and the motor before starting any work. Then I call you or send you an inspection report with a quote so you can tell what to expect. I stand by the precision and the quality of my work with 100% Zero Defects Guarantee period.
Now, I invite you to visit my Facebook page and see for yourself. See real examples of my work and read customers feedbacks.  I have repaired machines from as far as Hawaii, Alaska and every other state in the country. I take my time, I do the job right the first time and I charge less than any other repair shop.  I offer 25% off on return shipping.  I use FedEx to ship your headstock back and provide you a tracking number. 
Whether your machine is well-used or stiff from lack of use, I can completely rebuild it to the original factory specifications. Your machine will run quieter and stronger as a result guaranteed.  Click Here to Schedule your free inspection of your headstock today.

I understand that you may still have specific questions about your machine, then please call me at 505 349-3599 or click Here and email me your question. No obligation.
Regards,
Alex